Jaaxy Keyword Research Tool – Review
Having content on the internet won't be enough, if your trying to get it seen by the right people. 
What you want is the right audience to see your content/offer or products. 
The key is placing your content / offer in front of the right people and there are many ways to get this done.
One of the best ways to get on your content, offers and product seen by the right set of eye-balls is to do proper keyword research.  
Here's the thing! you don't want any type of traffic coming to your site, because not everyone will be interested in what you have to say or sell.
In the past there were not many options, so most people would turn to site like Google Keyword Planner or Google Keyword Tools, but they only gave lukewarm results and other sites like these are officially dead!
Because of the lukewarm results these sites produced, it made way for other stand along keyword research tools to step in and fill the void.
I have learned that it's not enough to show the keywords that people are using to find your content, offers or product on Google or other search engines.
If you want to be successful, you will need to know the keywords your competition is ranking for as well.
Here's a little tidbit to get you pointed in the right direction. It's not so much that your competitors use the same keyword.
But if the keywords they use is ranking, then this tells you that if they can rank for certain keywords that you are using then maybe your article can rank as well, no matter if  your site is new. It might take some time because it's a new site, but it could rank.
So, the question is how is all this done?
This is where Jaaxy come in?
WHAT IS JAAXY?
Jaaxy is the industry's only keyword and research platform that was developed by affiliate marketers FOR affiliate marketers.
I use Jaaxy because I've tried other research tools and Jaaxy is the only one that gives me that competitive edge plainly put.
Jaaxy is an advanced keyword tool that offers a collection of features that allow bloggers, web content developers or internet marketers the ability to search for keywords and take their keyword research to the next level.
This review will give you some of the ins and outs of the Jaaxy keyword tool, I will also share some of the ways I do keyword research using Jaaxy.
You're probably on this page because you've been struggling trying to come up with winning keywords that will compel your content / offers and products to the next level.
Whether your business is Affiliate Marketing, Youtube or eCommerce, keyword research plays a big part in improving your business.
Jaaxy is the most advanced, yet useful platform in the world for managing all aspects of keyword, website, competition and marketing research.
Jaaxy doesn't just search for keywords for you, you get insight on competitors who are using those same keywords.
Which comes in handy in the Marketing Industry.
Different Search Engines. Different Rankings.
Most marketers haven't a clue what ranking factors contribute to rankings in Google, or which ones will rank your website in search engines such as Bing and Yahoo which rely on completely different ranking factors and algorithms.
With Jaaxy you are going to be able to efficiently analyze rankings across ALL search engines
How Do You Use Jaaxy To find The Best Keywords
If you want to know how Jaaxy finds keywords you have to understand the ins and outs about Jaaxy.
The first step is as simple as entering your keyword or keywords into the search box.
From there, everything you need is laid out in a clear and concise manner.
In addition to your search term(s), you're provided with many other ideas. Some of these will work, some won't.
Either way, you want to pay close attention to all of the keywords. You never know when you'll find a gem.
Along with the keyword list, you'll find:
Keywords: columns you see Keywords Suggestions for the key word "how to make a passive income online"
Avg: with stand for average. This shows the amount of Search Volume that keyword gets per month, only if you are ranking in the top three spots in Google.
Traffic: The number of visitors per month your website is getting, only  if you are ranking in the top three spots in Google.
QSR: Quoted Search Results, which means it's the number of websites that are competing for that keywords
KQI: Keyword Quality Indicator is indicator use the traffic light colors to show if the keyword is a winner/ good to use.
SEO: Search Engine Optimization. The Practice of increasing the quantity and quality of traffic to your website through organic search engine results.
Domain Name: is an identification string that defines a realm of administrative autonomy, authority or control within the internet…
Once you have a handle on how Jaaxy metrics works, then you can find the winning Keywords
If you noticed, not all of these keywords make human sense, so when you are looking for winning keywords make sure they make human sense.
When I say human sense it means "make sure you can use them in a sentence correctly."
Furthermore, I always tell people who are launching a new site to keep things as simple as possible. With Jaaxy, you get the best results without any complications.
A Technique I Use in  Keyword Research to Get Ranked
Everyone does keyword research in different ways. But we all have to agree it all starts with proper Keyword Research. You can do everything else right but without proper Keyword Research it won't be right.
Whether it's using a different tools, to find a keywords, because there are so many variables to Keyword Research, there's really no one right way to do keyword research.
Now, I do keyword research one way, and you might do keyword research another way, but it's all about Relevancy.
What do I mean when I say Relevancy?
I saying does the keyword I'm searching for, is it Relevance to my Niche?
Is the keyword going to help me get to my end result.
Next, I make sure that the keyword match the niches "Intent".
What is the intent?
Do the primary niches help the searcher find what they are looking for when they are doing a search.
That's what we are all about helping the searcher find their (End Result)!
So it really doesn't matter what the niches is. It could be cooking burgers, golfing or make money online, we have to make simple for the searcher.
Here's an example of my process:
Niche: Make Money Online.
Intent: Earn a Passive income online.
Relevance Keyword: How to Make a Passive Income Online.
This is my thought process when I begin to do my keyword research.
Next, I take my keyword and plug it into Google ("how to make a passive income online") my keyword
Now I can visit any web page, such as a blog post on my competitor's site and dig around for keyword data.
After a few minutes, I should have a better idea of the primary and secondary keywords.
Remember this is one of the easiest ways I found to do keyword research and get ranked.
There are a lot of functions in Jaaxy for you to generate an in-depth keyword lists.
But, you could be missing the boat, if you're not paying attention to what your competition is doing.
For lack of a better word, Jaaxy is going to allow you to "SPY" on your competition and probe into WHY their websites are ranking.
Because where they are ranking, you will get insightful data into their website's content structure, meta tags, content quality/length, backlinks, ad placements, along with other information that the competition simply doesn't want you to have.
Quick note: If your competitors site is ranking for certain keywords,  you should be able to rank as well, even if it is a new site.
Using The Alphabet Soup Technique?
The Alphabet Soup Technique is a method of finding keywords using the Google Instant feature and the alphabet.
If you've ever searched on Google, you'll notice that when you start to type a term/phrase into the search bar, a number of suggestions become available.
Google Instant Feature
Using this feature and technique, we can find a long list of keywords that people are searching online for that related term/phrase.
It's given this name because you use the letters of the alphabet to help you come up with new keyword results.
This is How The Alphabet Soup Technique Work?
To get started with the Alphabet Soup Technique, you'll need to head over to Google and type a term into the search bar. In this example, I'll be using the term "keyword research".
As you can see from the screenshots below, all you really have to do is type your keyword in the search bar + a letter from the alphabet. Google Instantly will list the most popular searched terms first.
Keyword Research + "a"
Keyword Research + "b"
Keyword Research + "c"
The "before" variation
You can find further keywords by putting the chosen letter in front of your keyword. See below for examples:
"a" + Keyword Research
"b" + Keyword Research
All the results won't be perfect, but this technique allows you to potentially generate an endless amount of keywords for your niche.
This is just one example to do keyword research, there are endless ways to come up with keywords and using Jaaxy makes it so much easier to accomplish your goals.
The Power of Owning Simple Domain Name!
This is another powerful feature which Jaaxy offers to help build your business.
A domain name can fetch $100's or $1,000's and more from one domain name.
With the Domain search feature within Jaaxy you are going to be able to uncover 100's of high quality .com, .net and.org domains with every single keyword or local marketing search you perform.
High quality, brandable domain names are in short supply and like any type of real estate, once a domain is owned nobody else can own it.
Just like real estate they are becoming harder to find and more expensive to acquire and harder to make more of .com, .org or .net domains. So as important as having a real estate portfolio, a domain portfolio is just as valuable.
With Jaaxy,  Domain Names search features you are going to be able to uncover 100's of high quality .com, .net and.org domains name with every single keyword or local marketing search you perform.
Jaaxy Domain Flipping feature is one of the best tools you can use. You basically acquire a domain cheaply, renovate it and sell it at a profit.
This add-on feature in Jaaxy let you quickly find AMAZING domain names from this you will have a very lucrative base of domains names in your domain name portfolio.
You see, being the best at something is actually NOT enough (which is something I realized while learning NOT to drink my own Kool-Aid).
Personal standards are about being the best version of yourself while achieving your goals.
This is actually one of the reasons why I stand behind Jaaxy, they give away so much to help you succeed in whatever niche you desire
But at the end of the day, Jaaxy want to give you more than enough tools, tips, and tricks to change your life, while living within the standards you've worked to uphold.
This is why they offer the FREE version, it gives you 30 free searches, so you can determine how valuable it is.
I encourage you to take the free version and see how Jaaxy can help you as it has helped me. I was so impressed with the free version that I moved on to the PRO Version for  $19/month
There's also their premium versions (Pro / Enterprise) at their low price of:
PRO Version for  $19/month or $199/year.
At $199 a year, The Pro version opens you up to a world of benefits like
Keywords Suggestions
SEO Power Score when you need it
SEO Competition Tool
Unlimited monthly domain searches
Keyword Quality Indicator
In-depth website analyzer
Unlimited monthly keyword searches
Website Competition when needed
Hot Trends and Topics via the brainstorm feature
Keyword list management
Keyword to Do List
Search History
Affiliate program locator
Enterprise Version which is ideal for big business who are all about dominating their business niche priced at  $49/month or $499/year
Jaaxy is the industry's only keyword and research platform that was developed by affiliate marketers FOR affiliate marketers.                            GET STARTED NOW – IT'S FREE
Jaaxy Keyword Research Tool – Review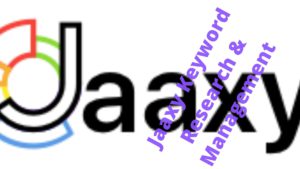 Jaaxy is an advanced keyword tool that offers a collection of features that allow bloggers, web content developers or internet marketers the ability to search for keywords and take their keyword research to the next level.